roaddawgz home
roaddawgz chatroom
c h a p t e r s
finding freedom
on the road
sqatting & gear
street hustles
drugs & addiction
companions
staying healthy
going home
propaghandi
manifesto
fiction
poetry & rhymes
art gallery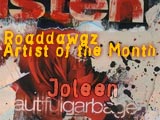 letters from the editor
about roaddawgz
links
Drugs & Addictions

FACING THE FAMILY - A MOMENT OF TRUTH
Brett Snyder, roaddawgz.org, Feb 10, 2003
The phone rings. Two more rings and he picks up. My stepdad, wondering why I'm calling collect at 2 am, accepts the call. He grumpily moans, "I'll get your mom...hold on."
"No," I say, "I don't think she can handle this. I've been arrested."
"What?" he replies, "Oh, God...for what ?"

WITH OR WITHOUT HEROIN
WHAT IF I DON'T EVER FEEL FREE?
Kari Guilinger, roaddawgz.org, Feb 10, 2003
Thinking about freedom takes me back to old journal entries I've written in the past few months, as things have gotten really bad. Never before have I felt so trapped, so lost with no hope of escaping this life or even having the strength to make things better for myself.

FREEDOM IN JAIL
Dustin "Brett" Snyder, roaddawgz.org, Feb 10, 2003
I believe that personal freedom exists in the same things that personal prisons exist in. There is a lot of freedom through drug use, like freedom from reality. But you can also be a slave to drug addiction. I think that how free you are depends on how free you perceive yourself to be.

THOUGHTS ON "FREE" PEOPLE. WHY I USE
Christina A.C.-B., roaddawgz.org, Feb 10, 2003
There is a very large subculture of people who have chosen to be free. Within this subculture there are countless smaller categories, or groups of people, who share common priorities and lifestyle choices.
No, not all free people are homeless.
Also, not all free people use drugs.

FREEDOM IS A CONTINUOUS STRUGGLE
Jennifer Hopkins, roaddawgz.org, Feb 10, 2003
For a long time I believed that freedom came with the ability to make choices, to do as you wish, whenever you wish. I still believe this basic principal, but now I also believe that freedom does not come without paying dues, and/or consequences.

EULOGY TO JENNIFER --"FUR"-- HOPKINS
Kari Guilinger, roaddawgz.org, Feb 10, 2003

I've had people go out on me before but until yesterday I had never seen anyone turn that blue. Her body went stiff in my arms and then relaxed. The color came back into her face, actually the blue just began to fade, but she still looked pale.I thought maybe she had passed out and her muscles relaxed so she was able to breathe again. I pressed my palm against her chest, hearing the sirens in the distance, and didn't feel anything.

RD Home > drugs & addictions > 6 > 7 > 8 > 9 > 10 > 11