roaddawgz home
roaddawgz chatroom
c h a p t e r s
finding freedom
on the road
sqatting & gear
street hustles
drugs & addiction
companions
staying healthy
going home
propaghandi
manifesto
fiction
poetry & rhymes
art gallery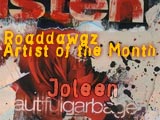 letters from the editor
about roaddawgz
links
Staying Healthy

HEPATITIS C
roaddawgz.org, Feb 24, 2003
Hep C is spread by blood to blood contact, and can be transmitted by sharing needles, cotton, cookers, and by unprotected sex. 80-90% of I.V. drug users are positive for Hepatitis C. The longer you've been shooting drugs the more likely you are to get Hep C

URINARY TRACT INFECTION (UTI)
roaddawgz.org, Feb 10, 2003
A urinary tract infection, (UTI) occurs when your bladder and its exit tubes get infected. Women get them more often than men -- they're more susceptible to bacteria sneaking into the urinary tract.

YEAST INFECTIONS
roaddawgz.org, Feb 10, 2003
A yeast infection basically means you have an overgrowth of yeast in your system. Yeast infections can be caused by wearing nylon underwear, dirty underwear, (I know they're hot, but,) tight pants, oral contraceptives, antibiotics, steroids, eating too many sweets, or not getting your vitamins.

HOW TO GET RID OF BUGS
TIPS FOR LOUSY PEOPLE
roaddawgz.org, Feb 10, 2003
Here's a common home remedy for ridding yourself of head lice: Mix a solution of two parts rubbing alcohol, (preferably the non-flammable kind) and one part vinegar. Add several heaping tablespoons of cayenne pepper.

CPR
roaddawgz.org, Feb 10, 2003
CPR is an emergency life saving method. It is the most important thing you can do for someone who has OD'd, without it, the person could very easily die. The following is a step by step how-to guide.

STAPH INFECTION
roaddawgz.org, Feb 10, 2003
taph, Golden Staph, or Staphylococcus Aures is a bacterial skin infection that is (unfortunately) common in those with weakened immune systems (from HIV, poor diet, drug use, etc.) and crusty ass'd punx that avoid showers like they are the black death.

RD Home > staying healthy > 6 > 7 > 8 > 9 > 10 > 11